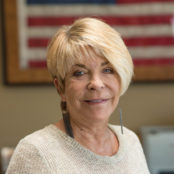 Patty Garrison
Founder and Owner
Contact Info:
Phone: 949-661-3867
Email: [email protected]
Website: www.rsvequestrian.com
BIO:
My Name is Patty Garrison. I am the owner of Rancho Sierra Vista Equestrian Center, located in San Juan Capistrano, California. I was born and raised in Orange County California on an eight hundred acre farm between the 405 and 5 freeways, which is now called Irvine. I lived in a small farmhouse with my mother, father, three sisters and brother. Our closest neighbor in those days was my grandma who lived three miles away. Over the years my dad grew tomatoes and Lima beans for Hunts foods. I have wonder memories of early morning raking Lima beans with my dad and as we passed each other, he would say to me, "Just keep your bean rows straight Patty", later I grew to understand that was how be lived his life. He would often say to me, "Keep looking forward and keep the priorities of life straight and in order". God family, friends, and country, strong values that I have based my life on.
I graduated from San Diego State with a Bachelor of Arts degree in elementary education and taught school in the Saddleback school district for twenty years. I have two daughters, Tiffany and Meghan who both have played a significant role in the history of Rancho Sierra Vista. As a nine year old, Tiffany dreamed of owning a horse, as a result in 1981 with the faith and trust of a dear family friend, Carmen Oyharzabal, one of the original families in San Juan Capistrano, we were able to purchase the fifteen acres the ranch sits on today. With the help of my dad and his tractor, the dream of our little girl and the journey of Rancho Sierra Vista began.
Thirty five years later Tiffany is still there, helping to run the office and Meghan has become a hunter jumper trainer with her own barn, Elite Equestrian Training Stables and competes at the Grand Prix Level. Rancho Sierra Vita is still a family owner business that plays a huge role in our lives and has been am amazing blessing to all of us. We would love for you and your horse to become part of our family.